daibiru group

Coexistence with the Local Community
Supporting patients and families in Charity Kitchen of HCMC Cho Ray Hospital
With donation and assistance of 28 staff members, our charity event at the Charity Kitchen of HCMC Cho Ray Hospital has been successfully organized on 30 November 2019. Mist fans, movable roof, 400 boxes of gift and etc. were sent to the Hospital. We wish these items can help support patients and families in the Hospital to overcome current difficulties and treatments.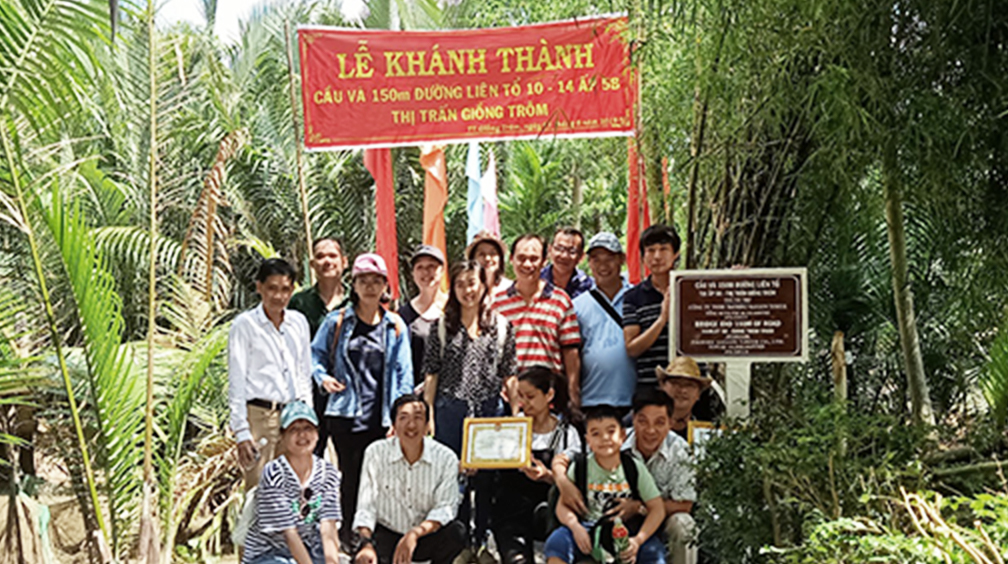 Reconstruction of bridge and road in Ben Tre Province
By donation of 33 staff members, a bridge 11m×2m and a road 150m×2m in Hamlet, Ben Tre province were reconstructed at the end of May 2019 to replace the old works built in 1985. 55 local families with 220 people can use the new bridge and road daily before this heavy rain season.
Supporting HCMC Pediatrics Hospital No.2
37 staff members donated and visited the Pediatrics Hospital No.2 on 23th Nov 2018 and handed out 180 boxes of gifts to the child patients from hematology-oncology and hemodialysis departments.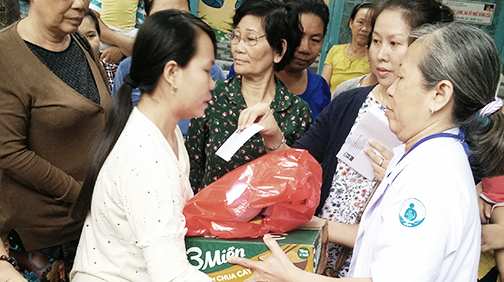 Supporting HCMC Pediatrics Hospital No.1
In 2018 We visited HCMC Pediatrics Hospital No.1 and handed out 100 boxes of gift for supporting children suffering from severe diseases such as kidney cancer and leukemia. 33 staff members joined the charity activity.
Charity Activities in Ho Chi Minh City
As a Daibiru group, in 2017, we participated a charity event Terry Fox Run to support cancer research programs in Vietnam. 40 staff and family members joined the event.
Building a Pedestrian Bridge
"Nakanoshima Shiki-no-oka" is connected by a pedestrian bridge to the promenade beside the Dojima River that runs past the northern side of the site. In the future, we intend to build a pedestrian bridge connecting to Nakanoshima 4-chome as well, where Osaka City plans to locate a museum of modern art. This will increase foot traffic in the Nakanoshima district, and will contribute to the enhancement of pedestrian safety by separating walking areas from those used by cars.
Disaster Prevention Measures (Disaster Prevention Drills)
In order to provide office buildings where people can work with peace of mind, we conduct annual disaster prevention drills at our buildings. With the aim of improving tenants' knowledge of disaster prevention, the drills include confirming evacuation routes, as well as exercises conducted at spaces such as on the roof of the building where employees can experience a smoke-filled environment and practice using fire extinguishers with the cooperation of the fire department in charge.
Nakanoshima West Water Sprinkling Project
Since 2012, we have been involved in litter cleanup activities along walkways and the surrounding area from the Oebashi to the Tamaebashi which cross the Dojimagawa together with local companies in Nakanoshima area in Osaka every year.
daibiru group

Social Contribution & Support for Culture
Daibiru Salon"1923"
In the "Daibiru Salon '1923'" on the first floor of the "Daibiru-Honkan Building," we have recreated the atmosphere of the "Daibiru Club" that used to be set up in the "former Daibiru-Honkan Building." Furthermore, in order to carry on the great architecture of the past, the terra cotta used forthe eaves cornice section of the "former Daibiru-Honkan Building" along with decorations, furnishings and other items from the Club are on display. In addition, the "Daibiru Archives," a large touch-panel display, has been installed to allow visitors to view numerous photographs and maps, so that the history of the merchant town Nakanoshima in Osaka will be widely passed down.
Smiles×Children×Nakanoshima
Starting in 2012, the art event "Smiles x Children x Nakanoshima" has been held at the "Nakanoshima Daibiru Building." This event, which fosters the imaginative power of children through the process of making things, is a project that lets children experience art up close. Activities include the creation of a huge koinobori (carp streamer) assembled from drawings by the children, and a panel of about two meters in length on which artists paint pictures on the theme of "smiles".